Q-Clear™ Laser for Fungal Toenails
We are proud to offer the most advanced laser treatment of unsightly fungal toenails to our patients utilizing the Q-Clear™ Laser. This procedure is performed here in our office and allows our patients to receive a similar efficacy to oral anti-fungal therapy in a one-time treatment. Our physicians will evaluate your fungal toenails and determine whether you are a good candidate for laser treatment.
SensiLase® Vascular Testing Device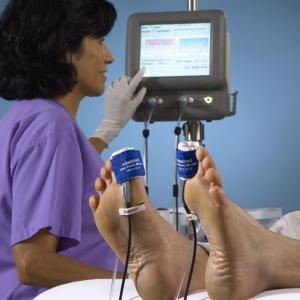 The SensiLase® System is a unique non-invasive examination that assists our physicians in diagnosing conditions associated with poor blood flow to the feet. The exam is performed in our Hoffman Estates office and is composed of two easy-to-perform and painless tests:
Skin Perfusion Pressure (SPP) is the blood pressure required to restore microcirculatory or capillary flow after inducing controlled occlusion and release. Ultimately, this gives us information about circulation in the small vessels of the patient's feet, and is very useful in determining the prognosis in wound healing of ulcerations and surgery.
Pulse Volume Recording (PVR) uses air plethysmography to evaluate changes in arterial blood volume with each pulse. This aids in determining the level and severity of arterial disease in the extremities.
Custom Orthotics
Custom
orthotics are medical devices prescribed to treat different foot and ankle conditions. They support and align the foot and lower extremities and are made by taking a plaster impression of the foot.  More often than not, insurance companies will cover custom orthotics.  Our physicians will perform a thorough evaluation to determine if orthotics are indicated for you.
Digital X-Ray
Our offices offer patients on-site x-ray evaluations of their foot or ankle problem. With the new addition of digital x-ray in our main Hoffman Estates office, we are able to provide our patients with greater clarity and detail than is possible with standard x-ray. Within seconds, the image is transferred from the radiographic cassette to our computer system for evaluation. This system allows our physicians to be extremely accurate when making necessary measurements, diagnosing even the smallest fractures, and evaluating the patient's foot structure.